IML-B11 Mud Density Sensor(Drilling fluid density sensor)
The IML-B11 drilling fluid density sensor is a single crystal silicon resonant density sensor for measuring the density of drilling fluid. The sensor adopts EJA118W, a diaphragm-sealed differential pressure transmitter , which has the advantages of high measurement accuracy, stable performance, and good repeatability. The outer mounting bracket is made of stainless steel, and it is corrosion-resistant and has a long service life. The base is detachably attached with a long rod, which can be adjusted according to the depth of the mud. It is an important sensor for oil and gas exploration work, which can be applied to various harsh environments such as oilfields.
1. Sensor installation
The distance between the two pressure diaphragm of the IML-B11 drilling fluid density sensor is 45cm and 60cm, the outlet density sensor is 45cm, and the entrance density sensor is 60cm.
According to the needs of measurement, we choose to install sensors on the drilling fluid inlet and drilling fluid outlet respectively. When drilling fluid level fluctuates, the upper and lower flanges must be immersed in the mud to keep it upright and not tilted, otherwise it will affect the accuracy of measurement. The transmitter changer shall be above the mud level and not immersed in mud.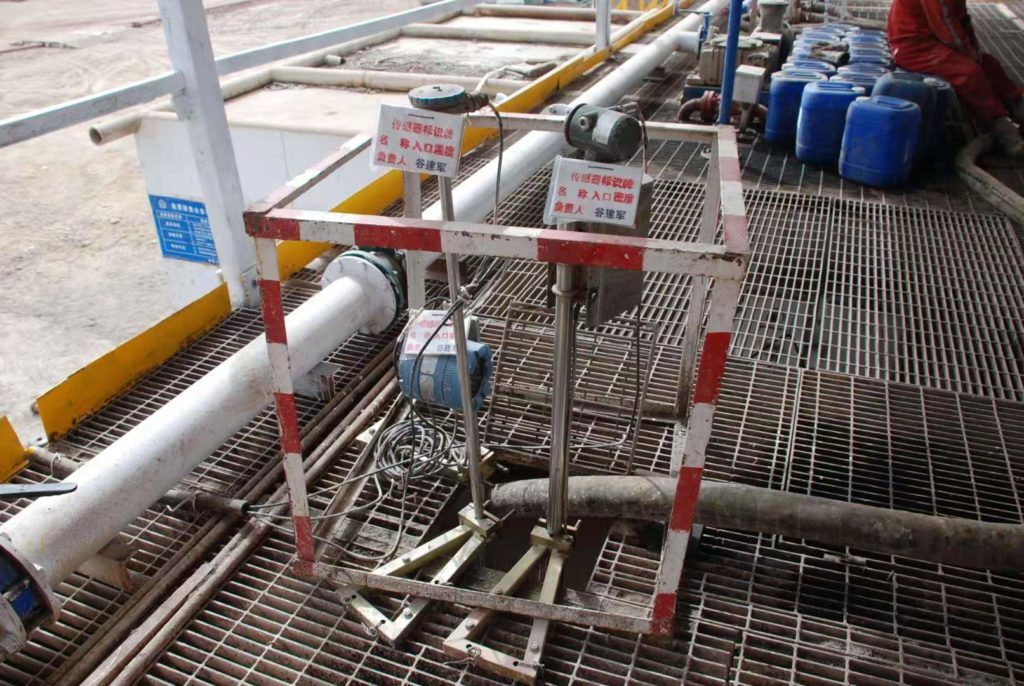 3. Maintenance
(1)The transmitter part must be sealed to prevent water damage.
(2)The sensor is designed to withstand shock and vibration, but it should be installed in places with less impact and less vibration.
(3)The two flanges of the sensor should be flushed regularly. If the cleaning is not in time, the sludge will be blocked and the flange will affect the measurement results. It is forbidden to clean mud with screwdrivers and other sharp appliances, so as not to damage the flange diaphragm, and affect the measurement results.
(4)When the sensor is not used, the residual liquid in the flanges of the flanges should be thoroughly cleaned.